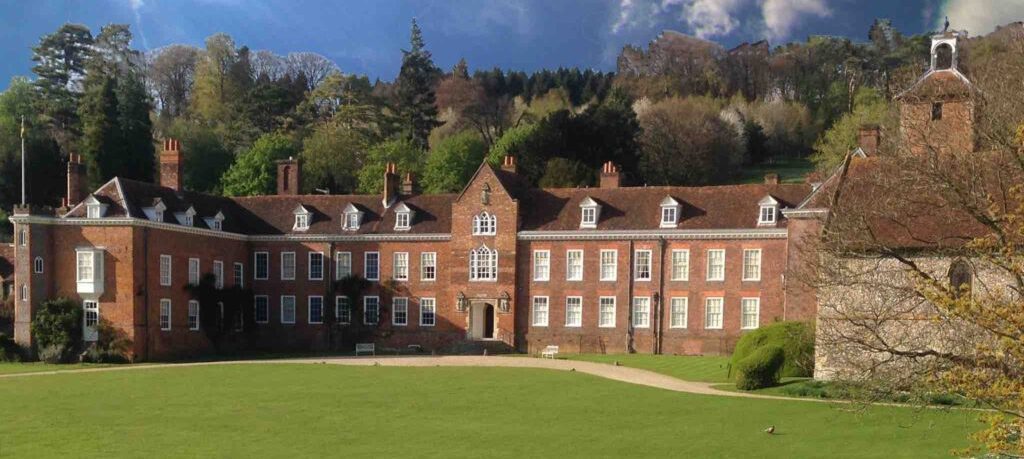 In the news
Stonor Park hosted BBC Antiques Roadshow
Stonor Park, one of Britain's oldest stately homes, was recently featured on the iconic BBC programme, Antiques Roadshow.
The first of two shows, which was filmed last summer, aired on Sunday 28th February on BBC1 and host Fiona Bruce and the show's team of experts assessed heirlooms from proud owners across the local area, after an appeal was broadcast on both Stonor Park's and the BBC's website.
A treasure trove in its own right, with one of the oldest archives in the UK, the first episode saw Fiona arriving in a vintage Aston Martin, explaining the park's link to the classic James Bond film The Living Daylights, which was filmed at Stonor Park in 1987 with its star Timothy Dalton.
During their time at Stonor Park, the experts uncovered a genuine LS Lowry painting and a rare artefact that survived the attack on Pearl Harbour. They also identified one of the rarest and most coveted RAF badges.
With Catholic history central to the house and park, the episode also explored how the house was used during the reformation, hiding priests and religious figures.
William Stonor said: "We were absolutely thrilled to be part of the BBC Antiques Roadshow – it was a real privilege to host Fiona and the team, who made the experience seamless and very smooth-sailing in these tricky times.
"Community is hugely important to myself and my wife Ailsa, and everything we do at Stonor Park is centred on how we can contribute to the local community in a positive way. We hope those who came along on the day and everyone who watched, found some joy in the unique artefacts from our local area. It was certainly one of our highs of 2020, in an otherwise tough year."
With Stonor Park's fascinating history, and the Stonor family inhabiting the ancient house for 850 years, the BBC felt it was a natural fit as venue for The Antiques Roadshow – one of the BBC's longest running programmes, which uncovers precious antiques and artefacts belonging to local people. "It was an experience we'll never forget," says William.
In case you missed the episode, you can catch up with it here on BBC iPlayer here.
The second instalment of Antiques Roadshow at Stonor Park will be aired later this year.